VectorVest
stand no. D8

VectorVest has been providing the highest quality investment research to investors for 28 years. The company's comprehensive approach to investing combines the insight of fundamental valuation with the power of technical analysis in an easy-to-use stock analysis software package designed for all types of investors. VectorVest provides a buy, sell, or hold rating for over 19,000 stocks each day based on its proprietary value, safety, and timing system. The demand for its indicators and market-timing information has prompted worldwide expansion. VectorVest analyzes markets in the US, Canada, Europe, UK, Singapore, Australia, and Hong Kong.
Meristem Design
stand no. D18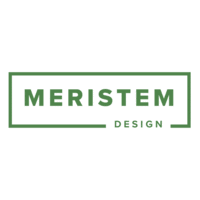 We are a young company with big ambitions to become an environmentally sustainable force in Green Infrastructure. We deliver high quality projects that are focused on delivering the benefits of plants to a space and the people that inhabit it, in an environmentally conscious and professional manner. Plants are vital to our lives, providing for many of our needs, as well as producing a clean and healthy environment that keeps us both physically and psychologically healthy. The development of large cities and urban lifestyles, however, has led to an estrangement from plants and obscured our relationship with them. This has manifested itself into problems for urban areas and is causing a reduction in the quality of life of billions worldwide. Reintegrating plants into our lives is a cost effective, ecologically friendly, and aesthetically pleasing solution to many of these issues. As a company we combine scientific and horticultural expertise, with business integrity, and high quality design to provide these solutions to our clients. We are continually converting the fast-growing body of scientific research on green infrastructure into real world projects where our intelligently designed planting structures make areas greener and cleaner - benefiting both people and the local environment. We are, therefore, part of a movement to make cities healthier and happier places to live, and hope to become part of a wider societal trend towards embracing plants to live a more fulfilled life.
Research in Finance
stand no. C4
Research in Finance is a market intelligence, publishing and business information provider that specialises in the UK and European financial services industry. We work with some of the largest companies in the market, helping generate world class research projects and business strategies. Through our collection of innovative products we deliver in-depth proprietary market intelligence, brand analysis, product awareness and a bespoke consulting service. Research in Finance creates and manages panels of consumers who have an interest in finance. Any member of the panel will get the opportunity to take part in surveys, which have an influence on products and services on offer to the market. Taking part in the surveys is usually paid, as a reimbursement for the time taken to do the research.
IoD Central London
Stand No. C10

Welcome to IoD London Region
IoD Central London is a vibrant, impactful, peer-led community, supporting members in Central London. We are one of the largest IoD membership regions. The Institute of Directors (IoD) was founded in 1903 and within three years we were awarded a Royal Charter to support, represent and set standards for business leaders nationwide. We remain deeply proud of our Royal Charter and it stays at the forefront of everything we do as an organisation. Membership will equip you with a range of resources - including access to business information, training, professional expertise, networking opportunities and flexible working spaces - all of which are designed to help you strengthen and build on your own success. Our renowned Chartered Director qualification and training portfolio will provide you with the platform to hone your skill set and reach your full potential as a business leader. We invite you to consider joining our Special interest groups and engage with us at The London Investor Show 2021 to explore ways we can collaborate to strengthen the Central London community. IoD Central London offers a wide variety of special interest groups for IoD members to connect with like-minded people.